Announcing "1970"

A 2-Act Play by Scott Lax

World Premiere September 2023

CHAGRIN VALLEY TIMES
Click above for the Chagrin Valley Times Article about Scott's Journey to the New Play, "1970"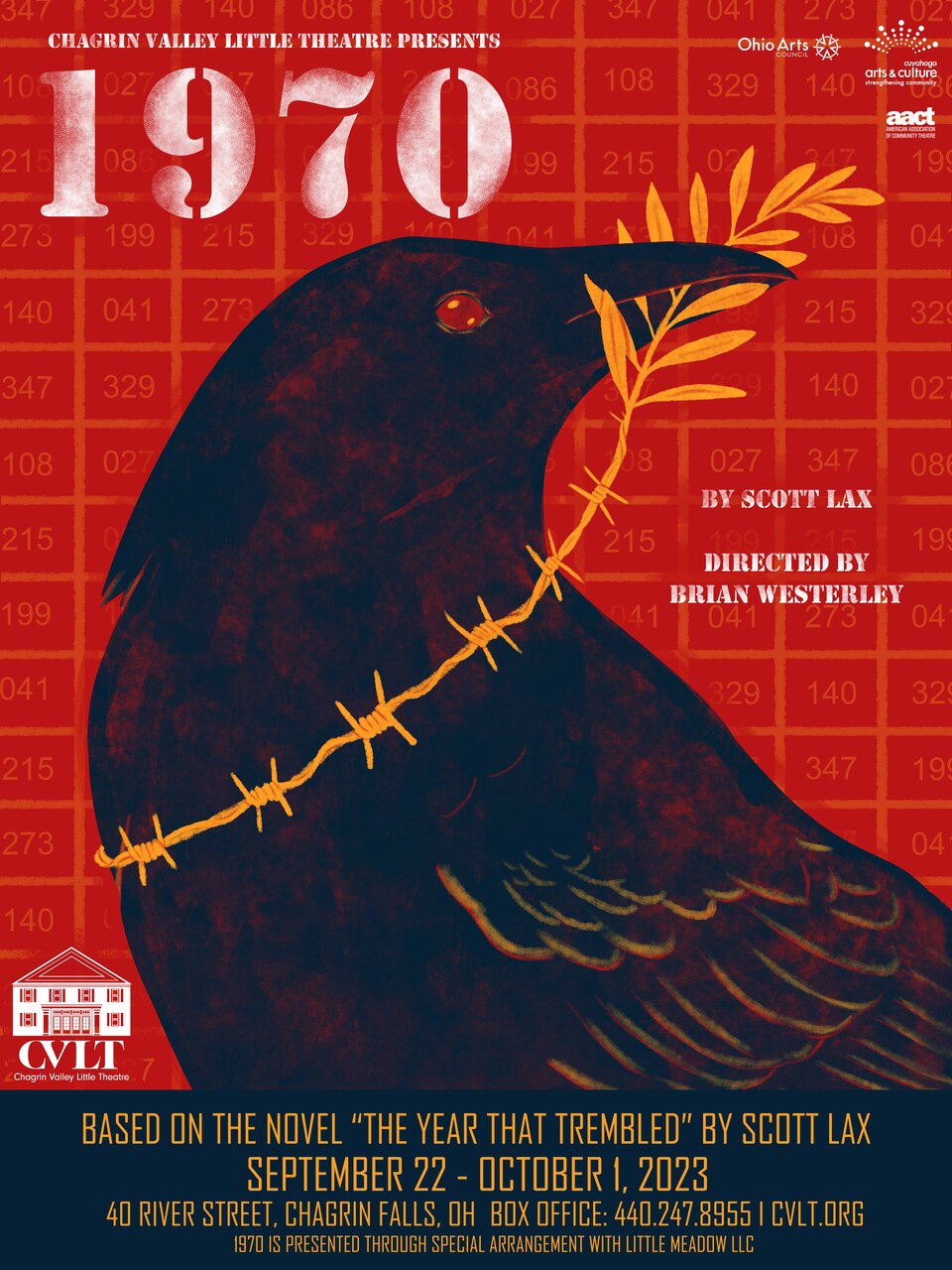 FOR IMMEDIATE RELEASE. December 30, 2022: World Premiere of Scott Lax's new play 1970 to open 94th Season at Chagrin Valley Little Theatre in September 2023

The Chagrin Valley Little Theatre is pleased to announce that the World Premiere of Scott Lax's 1970, a full-length stage adaptation of his award-winning novel The Year That Trembled, will kick off the theater's 94th Season inSeptember, 2023.

Lax's critically acclaimed novel is set in the year 1970, in an old farmhouse on the outskirts of a fictional village called Chestnut Falls, Ohio. Published first in 1998 with a second edition following in 2013, The Denver Post named the novel one of 1998's "Milestones in Fiction," saying, "The Year That Trembled is a powerful coming of age story of a group of friends who are waiting to learn their fate in the selective service lottery that will determine whether they will be called on to fight in the Vietnam war... Those of us who came of age in those years remember the fear, the soul searching we went through. Lax captures the mood of the era and tells a strong tale of love, brotherly and otherwise."

A feature film based on the novel was made in 2002, starring Jonathan Brandis, Marin Hinkle, Fred Willard, Martin Mull and others, with Lax serving as producer. The previous, eponymously titled high school version of the play was twice produced at University School, in 2003 and 2013.

Lax has long hoped to have his finished, full-length version of the play produced at Chagrin Valley Little Theatre, which he proposed to the theater this past summer. Now, having been officially chosen by CVLT's board and play selection committee to open the 94th season, he is finally able to share his excitement publicly. Says Lax, "I am thrilled and deeply honored that 1970 will have its World Premiere in my hometown, at the very theatre I have long admired, and with Brian Westerley directing. I could not be more excited for this collaboration."

ABOUT THE AUTHOR: Scott Lax is a playwright as well as the author of two commercially published novels, The Year That Trembled and Vengeance Follows, several short stories, and numerous essays. The Midwest Book review called him, "a master wordsmith of the first order." A 1970 graduate of Chagrin Falls High School, Scott was inducted into the Chagrin Falls Schools Achievement Hall of Fame in 2016. He has also worked in business and as a professional drummer. Scott lives with his wife Lydia and son Finn in Chagrin Falls and is a Lecturer in Creative Writing at the Cleveland Institute of Art.

__

Chagrin Valley Little Theatre is a 501(c)(3) nonprofit funded through individual and corporate contributions. Our programming is made possible in part by the citizens of Cuyahoga Country through Cuyahoga County Arts and Culture and by state tax dollars allocated by the Ohio Legislature to the Ohio Arts Council (OAC). The OAC is a state agency that funds and supports quality arts experiences to strengthen Ohio communities culturally, educationally, and economically.

###
Nonfiction Features, Essays + Columns